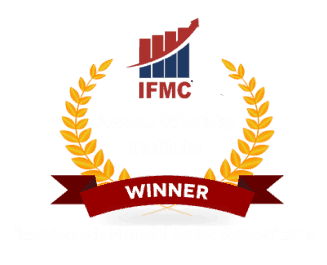 NCFM CAPITAL MARKET DEALER MOCK TEST
Equity market is the most important exam for those dealing in equity market . Employees of stock brokers and sub-brokers , teachers … 
NCFM – Capital Market Mock Test (Dealer Module)
The equity market is the most important exam for those dealing in the equity market. Employees of stockbrokers and sub-brokers, teachers, employees of BPO'S /IT companies or anybody having interest in stock market operations must upgrade themselves in the capital market.
The mock test /question bank/sample papers are designed by IFMC  ensures that student clears his or her exam in the first attempt. It gives you a real-time feel of exam conducted at NSE center. The questions are available with answers and on top of it with explanations which set us apart and help the student understand and remember the answer.
Thus the platform is practically useful for all those appearing for exams at  NISM – CAPITAL MARKET (DEALER MODULE).
Capital Market Dealers Module
Chapter 1: Overview of Indian Securities Market 
Indian Securities Market, Market segment, primary market, secondary market, NSE, Index, Market capitalization, Turnover, Products & participants, Capital market segment, F&O segment, currency derivative segment, screen-based trading, de-materialization, clearing corporation, investor protection, globalization, direct market access, ASBA.
Chapter 2: Trading Membership
Stock Broker, membership in NSE, continuation of membership, suspension & expulsion of membership, client-broker relationship in capital market segment, know your client, unique client code, margins from the client, contract note, brokerage, authorized person, sub-brokers, basic requirements of sub-brokers, sub-broker-client relations, dispute, arbitration and appeal, code of advertisement.
Chapter 3: Trading
Open out cry system, Exchange trading ring, online trading, stock exchange trading system, trading network, screen based trading system, price/time priority, time/price priority, kinds of orders, tick size, lot size, types of markets, normal market, auction market, retail debt market, odd lot market, stop loss order, physical market, corporate hierarchy, corporate manager, branch manager, dealer, local database, market phase, opening, pre-open, open phase, market close, post closing session, surcon, logging on, log off, neat screen, title bar, toolbar, market watch, inquiry window, market info, market watch download, security descriptor, market by price, online backup, basket trading, price freeze, price band, circuit breakers, internet trading.
Chapter 4: Clearing and Settlement
Introduction, key terminologies used in clearing and settlement process, Transaction cycle, settlement agencies, clearing and settlement process, securities and funds settlement, shortages handling, risks in the settlement, international securities identification number, data and report downloads.
Chapter 5: Legal Framework
SEBI (intermediaries) regulations, 2008, SEBI (prohibition of insider trading) regulations, 1992, SEBI (prohibition of fraudulent and unfair trade practices relating to, securities market) regulation, 2003, The depositories act, 1996, Indian contract act, 1872, Income tax act, 1961.
Chapter 6: Fundamental Valuation Concepts
Time value of money, Understanding financial statements.
Who is this Course for?
⦿ Individual
⦿ Bankers
⦿ Students
⦿ Teachers
⦿ Working Professionals
⦿ Employees of Stock Brokers & Sub-Brokers
⦿ Investors & Traders
⦿ A person having interest in
⦿ Stock Market
Course Requirements
PC, Laptop, I-pad, Tab, Mobile, with 4G internet
IFMC®
NCFM Capital Market
Dealer Mock Test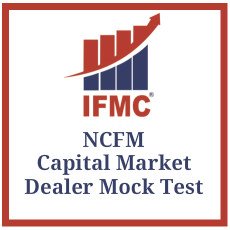 NCFM
Capital Market
Dealer Mock Test
By IFMC® Institute
900/-
₨
( Inclusive of GST)
Duration : - 6 Month

Language : - English

Mock Type : - Online
1 : This is mock examination of ncfm capital market designed by ifmc institute.

2 : This mock papers has 450 questions in total.

3 : These practice papers gives you a real time feel.

4 : You get the correct answers and also the explanations.

5 : Actual examination at nse will have 60 questions.

6 : There will be negative marking of 25% of marks.

7 : Passing marks is 50%.

8 : Aim of mock examination is to give candidate hands on experience of NCFM testing system.

9 : After taking these mock test you will be confident and prepared enough to clear the exams
All the best for your exam
Please visit www.Nseindia.Com for examination detail and booking