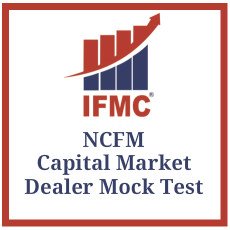 NCFM Capital Market Dealer
| | |
| --- | --- |
| Language | English |
| Validity Period | 6 Months |
| | |
| --- | --- |
| Language | English |
| Validity Period | 6 Months |
Course Content
Capital Market Dealers Module
Chapter 1: Overview of Indian Securities Market 
Indian Securities Market, Market segment, primary market, secondary market, NSE, Index, Market capitalization, Turnover, Products & participants, Capital market segment, F&O segment, currency derivative segment, screen-based trading, de-materialization, clearing corporation, investor protection, globalization, direct market access, ASBA.
Chapter 2: Trading Membership
Stock Broker, membership in NSE, continuation of membership, suspension & expulsion of membership, client-broker relationship in capital market segment, know your client, unique client code, margins from the client, contract note, brokerage, authorized person, sub-brokers, basic requirements of sub-brokers, sub-broker-client relations, dispute, arbitration and appeal, code of advertisement.
Chapter 3: Trading
Open out cry system, Exchange trading ring, online trading, stock exchange trading system, trading network, screen based trading system, price/time priority, time/price priority, kinds of orders, tick size, lot size, types of markets, normal market, auction market, retail debt market, odd lot market, stop loss order, physical market, corporate hierarchy, corporate manager, branch manager, dealer, local database, market phase, opening, pre-open, open phase, market close, post closing session, surcon, logging on, log off, neat screen, title bar, toolbar, market watch, inquiry window, market info, market watch download, security descriptor, market by price, online backup, basket trading, price freeze, price band, circuit breakers, internet trading.
Chapter 4: Clearing and Settlement
Introduction, key terminologies used in clearing and settlement process, Transaction cycle, settlement agencies, clearing and settlement process, securities and funds settlement, shortages handling, risks in the settlement, international securities identification number, data and report downloads.
Chapter 5: Legal Framework
SEBI (intermediaries) regulations, 2008, SEBI (prohibition of insider trading) regulations, 1992, SEBI (prohibition of fraudulent and unfair trade practices relating to, securities market) regulation, 2003, The depositories act, 1996, Indian contract act, 1872, Income tax act, 1961.
Chapter 6: Fundamental Valuation Concepts
Time value of money, Understanding financial statements.
How To Use
How to register:
Browse and select from all available courses
Click on 'Buy Now'
Click on 'Add to Cart'
Click on 'Proceed to Checkout'
Enter billing details or login if you're an Existing Customer? and click 'Place Order'
Once payment is done you will receive a confirmation email within 24 hours
Login to the dashboard
Enter your email as user I'd and password ( that you have received on your mail I'd)
Select the course and click on 'View Course'
Select the topic and click on the video to view the course
Note:
All online courses are pre-recorded video session.
Once you enrol in a course, you'll have access until the validity and you can watch as many time you want in that validity period.
Need Help?
Call our customer support at +91-9870510511 for help at any point during the registration process.
For Better Streaming Experience:-
Delete temporary internet files by going to run command type "%temp%" delete files watch this YouTube Video https://bit.ly/3tiysIp
Do not open multiple browser tabs.
If you're using mobile internet watch on mobile phone only please don't use mobile hotspot.
There are no reviews yet.
Only logged in customers who have purchased this product may leave a review.
There are no reviews yet.
Only logged in customers who have purchased this product may leave a review.