Learn Elliott Wave Theory - Best Technical Indicator Course
Simplifying Market Trading Secrets
IFMC Elliott Wave course online training let's you master one of the most advanced concepts of technical analysis. Elliott Wave theory course for beginners is an advanced study of mass psychology. Our trading strategy experts offer an insight to good Elliott Wave entry points to superior risk management and reward ratio.
What is Elliott Wave Theory?
The Elliott wave indicator (discovered by Ralph Nelson Elliott) study 'how groups of people behave in market trends'. It is a form of technical analysis that financial trades facilitate to stock market analysis. Although, there are numerous technical indicators around the world. But, scrutinizing through the best technical analysis tool is challenging.
By far, Elliott wave theory is known as one of the most accurate means of identifying Market Reversals. The theory is similar to MACD and moving average trading strategy.  Elliott wave analysis trading technique is difficult to comprehend. But once you understand you will be able to earn high profits.
Mr. Puneet Grover, the senior research analyst at IFMC Institute simplifies 'how does Elliott wave theory work' and 'rules to applying Elliott theory profitably'.
Get Practical Trading Tips With Elliott Wave Trading Course
The 50 minutes education video course covers Elliott Wave principle rules, guidelines, characteristics, wave patterns, wave structures, wave charts, and Fibonacci relationships. By the end of the online home study course, you'll be able to forecast price with magic numbers. The various paragon shares in the course module will amaze you as you learn the key rule of Elliott wave theory. See how to combine wave with chart patterns and retracement levels using simple mathematical calculation.
Learn Elliott Wave Theory Patterns in Real-Market
The course put you through a real-time example in live market to analyze trades. See how to win, lose, or breakeven through rules when Elliott wave explained. Moreover, learn how to read Elliott wave theory, how to identify Elliott wave in stock market, forex, intraday trading, day trading, and crude oil.
These are few benefits of the course, as you go through the lessons offer by the experience trader, you'll learn how to draw Elliott wave theory in trading view
Why Elliot Wave Online Course?
In this Elliott Wave Online Course, Puneet Grover guides you to:
How to apply Elliott wave theory accurately in short-term and long-term investment
Learn how the market behaves in Elliott Wave within a triangle pattern
Understand three Elliott wave rules and guidelines that cannot be broken when market zigzags
How to identify turning points in the stock market
Review of Elliott wave examples
How to set price targets and prepare for market retracements using Fibonacci analysis
Manage risk by identifying as you learn how to trade like a pro
What Will You Get?

| | |
| --- | --- |
| Recorded Video | :       5 Videos |
| Total Video Time | :       54 Minutes Approx |
| Language | :       Hindi |
| Books | :    No |
| Faculty | :      Mr. Puneet Grover |
One Doubt Session On Each Module * - ( Time Slot Will Be Given As Per Faculty Availability)
Course Fee
Rs 900/-  ( Inclusive of GST)
Course  validity
6 months
Elliott Wave Course Module
Module 1: Introduction & Elliott Upward Waves
■ What is Elliott Theory?
■ Who discover Elliott Theory?
■ Principle of Elliott Theory
■ Two Elliott Theory Wave Category
■ Impulsive wave trend
■ Corrective wave trend
■ Three Elliott Theory Wave Labels
■ Structure Wave
■ Organization Wave
■ Progress Wave
■ Four Elliott Theory Wave Complications
■ Monowaves
■ Poly Waves
■ Multi Waves
■ Macrowave
■ How to make observations in Elliott Theory
■ Elliott Theory Rules to trade
Module 2: How to Form Elliott Wave with channels
■ How to trade triangle
■ Diagonal Triangles
■ ABC Design
■ Uptrend
■ Downtrend
■ Nifty
■ Examples
Module 3: Fibonacci sequence
■ Fibonacci numbers
■ Properties
■ Retracement
Module 4: Elliott and Fibonacci with Example
Module 5: Predict Nifty Future movements and anticipations
Elliott wave analysis course is designed for aspirants who want to master the market natural sequence including
⦿ Traders who are looking for increased knowledge of technical indicators
⦿ Traders who want to learn a reliable way to predict price action movements and swings
⦿ Investors who want to improve stock market money-making technique
⦿ Basic Knowledge of Technical Analysis
⦿ PC, Laptop, I-pad, Tab, Mobile, with 4G internet
Learn Elliott Wave Theory
Disclaimer for Online Courses


"Elliott Wave Theory" course videos are for educational and information purpose only. Please refer our website for course details. We advise you to understand the strategies well and use your own discretion to use them in live markets. Paper trades initially suggestive.

Trading of Stocks is subject to Market Risk, users use their own discretion to trade in Live Market.

IFMC is not responsible for any Loss or Damages of any kind to the student/client.
IFMC®
Elliott Wave Theory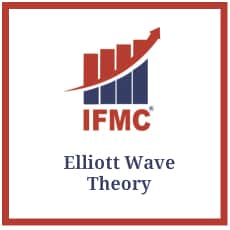 Elliott
Wave Theory
By IFMC® Institute
900/-
₨
( Inclusive of GST)
Duration : - 6 Month

Language : - Hindi

Certification : - Yes
Elliott Wave theory course is an advanced concept in technical analysis. Learn Elliott wave analysis technique like a pro from expert technical analyst. Elliott wave analysis is a powerful trading system .

Master techniques to read patterns and future projection of price with the best institute for Elliott Wave. One of the accurate means to identify market continuation, reversals, and analysis. The trading technique is a life-changing stock market game.